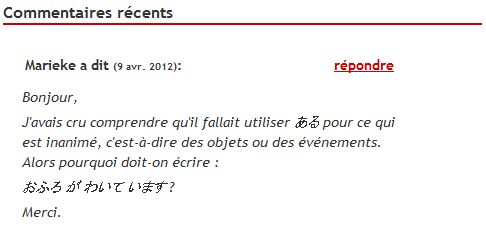 More and more members post comments to ask questions or simply to give some feedback about the site. Recently, contribution points have also been given when posting comments so that the site community grows.
With new features (especially grammar and particles), it's become harder to follow and track new comments scattered all over the site. That's why I've added a central tool on the home page, which displays recent comments.
This list of comments is updated once a day, and is chosen, which means that only messages of interest for the community are displayed. It's no use displaying messages such as "thanks" (but this kind of messages are very important to me!). I hope you'll like it and that you'll take part even more by asking your questions or by helping others.
Written by Raphael
Have you enjoyed this article?
---