Two new stories for the Reading Assistant
by Raphael
I've released two new stories for the Reading Assistant on the website.
City and Countryside

This text is a dialogue between a person living in the country and another one living in city. The objective is to be able to share your opinion in Japanese and use the comparative structures.
I want a tablet!

Discussion between two teenagers after the result of a math test. Will Yumi receive the tablet promised by her parents for good results? This text is a little more difficult because it uses many oral forms. Everything is explained in the comments and the grammatical sheets.
Very soon...
Usagi-san's Story (Mr. Rabbit), a 7-part adventure (JLPT level N5) with professional actors' voice. Be prepared to laugh and cry.
What is the Reading Assistant?
If you were not there this summer, the Reading Assistant is a tool that allows you to read Japanese texts without getting blocked.
Audio recording available for each sentence, just click a sentence to listen to it
A list of words used in the sentence
A list of grammatical sheets to explain the structures used in the selected sentence
When not clear enough, comments provide further information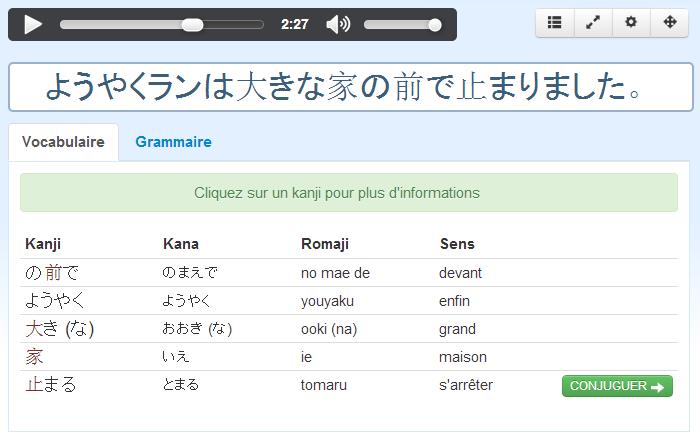 A final quiz will put you to the test to check if you could understand the story well enough before accessing the translation.
You can do various exercises that will develop your ability to communicate in Japanese:
Read the text and become fluent in Hiragana / Katakana quickly without ever getting bored
Learn the vocabulary and grammatical structures, and then tell the story by yourself. This exercise requires much concentration, but is very effecient to improve your oral skills
No limits, be creative!
Written by Raphael
Have you enjoyed this article?
---