Customize your example sentences
by Raphael
All example sentences in the grammar and particle sections on the website have been greatly improved (over 800 sentences were concerned).
Until now, the examples consisted of a sentence in Kanji, the equivalent in Kana, and a translation. That could be a problem for beginners who could not take advantage of this content without first mastering Hiragana and Katakana.
The new system provides great display flexibility. You can customize the documents according to your needs and your way of working. Here are the new features:
Ability to separate words in the Kanji sentence for better readability and easily understand the structure of the sentence (very handy when you are learning a new grammatical construction!).
The Kana sentence has been removed and replaced by Furigana above each Kanji (Furigana are small characters that indicate the pronunciation of a Kanji).
The sentence in Romaji (requested by many) to help beginners and to speed up your learning flow by removing the complexity of Japanese characters so that you can focus on the structure to learn.
Kanji are larger for easier identification.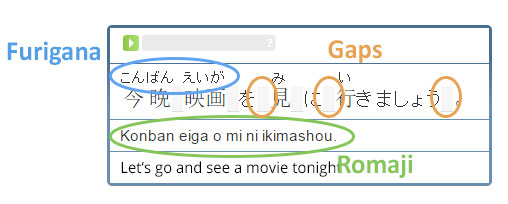 Gaps between words, Furigana or Romaji options can be shown / hidden to your convenience. You can do so by clicking on the "EXAMPLE SETTINGS" button at the top of each grammar / particle page. Your settings are stored, so you don't need to change them every time (log out and in again if your settings are not stored).
These features will also be included in JA Sensei soon.
Written by Raphael
Have you enjoyed this article?
---