JA Sensei's New Conversations Module
by Raphael
I'm thrilled to announce the release of the new Dialogues Module, now available on JA Sensei! This module includes 100 everyday situations all designed to help you practice and improve your Japanese conversation skills using real-life Japanese.
As a language learner it's important of being able to communicate fluently in real-life situations. That's why the Dialogues module will help you learn essential Japanese expressions and phrases, how to make small talk, how to deal with many difficult situations.
Each dialogue in this module comes with audio recordings by native voice-over artists to make the conversation more natural and lively. This feature will help you understand how to pronounce Japanese correctly and will give you the confidence to speak Japanese with native speakers.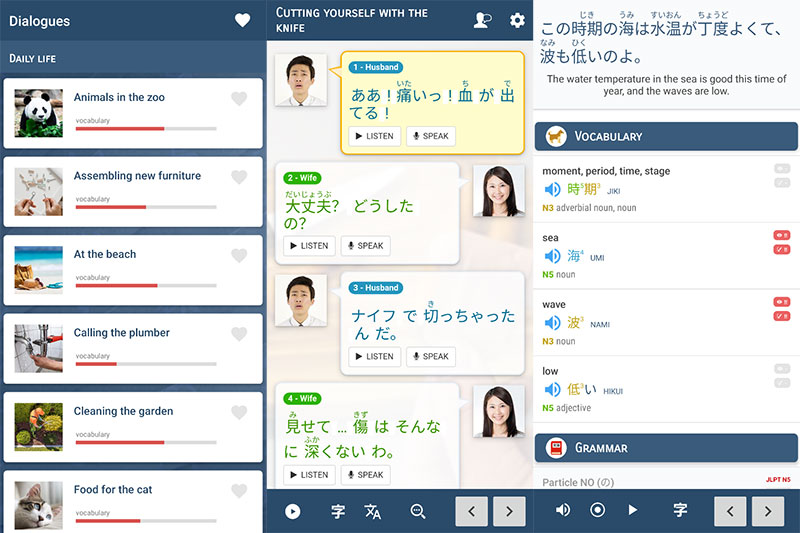 For Samurai Unlimited users, you'll get access to all 100 situations giving you the most comprehensive learning experience available. For Premium users will have access to 30 essential situations. And for Free users, you can try out 3 sample situations for free to get a feel for the Conversations Module.
I encourage you to take advantage of this new module and upgrade to Samurai Unlimited or Premium to get the most out of JA Sensei's language learning experience. All updates are free, so your purchase is a small investment for the value you get.
To update JA Sensei to version 5.7.0, go to Google Play
Written by Raphael
Have you enjoyed this article?
---